Angle snapping is a feature that some computer mice have, which predicts when you want to draw a straight line and then corrects your mouse movements so it goes in a straight line.
Angle snapping is bad for gaming and most gaming mice do not have it.
If you've opened up MS Paint and tried to draw a perfectly straight line, you know it's impossible.
That assumes you have a good gaming mouse which does not have angle snapping.
If you had angle snapping enabled, you would draw a straight line even though your movements are not straight at all.
So angle snapping basically adjusts your mouse movements so that it appears to be straight.
Is Angle Snapping Bad For Gaming?
Yes, angle snapping is bad for gaming.
When it comes to games, you don't want anything interfering with your aim, especially in first-person shooter games.
After all, your mouse has a flawless sensor and you want to your aim to be as accurate to your mouse movements as possible.
Most modern gaming mice today do not have angle snapping.
Look at the image below to clearly understand why angle snapping is bad for gaming. Assume you see an enemy pop out and your crosshair is at the left side. You try to move your mouse over the enemy's head and here is the outcome: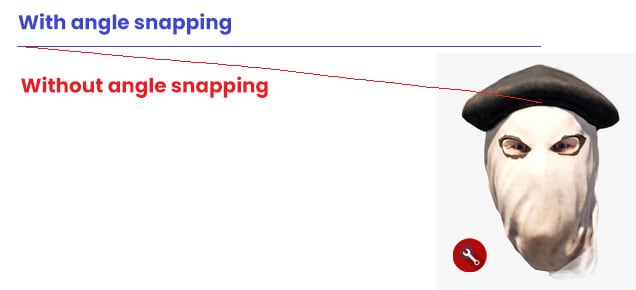 Does Your Mouse Have Angle Snapping?
You can test if your mouse has angle snapping by opening up MS Paint and drawing a straight line.
If your drawing ends up looking like the red lines, then you are good to go.
If it's (almost) perfectly straight, your mouse most likely has angle snapping.