Just 20ish years ago, it was unimaginable that you could play multiplayer games while chatting with your friends at the same time – does that ever cross your mind?
The whole issue is for another article, though. This time around, we continue evaluating and testing products that enable such a fortunate outcome.
In this HyperX Cloud Flight S review, you'll learn everything about this headset, presented without any pink-colored eyeglasses.
Specs & Features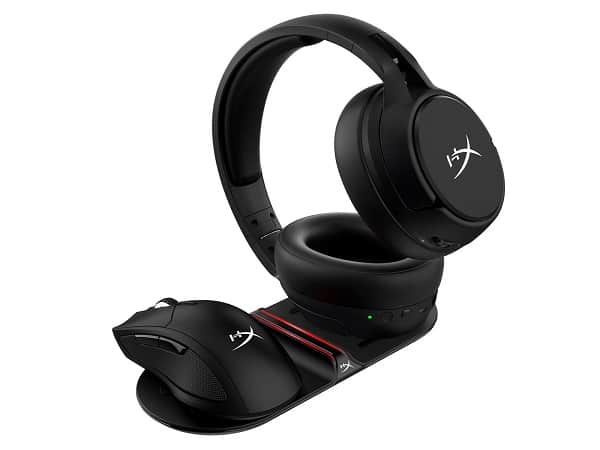 Here is the official preview of the Cloud Flight S, as the manufacturers put it out. However, read on to find out whether all of the features perform as expected!
HyperX Cloud Flight S
Dimensions
7.47 x 7.42 x 3.45 inches
Weight
0.71 pounds
Frequency Response
10-22000 Hz
Material
Plastic, metal, leatherette, memory foam
Connectivity
2.4GHz wireless
Wireless Charging
Yes
Battery life
Up to 30 hours
Compatibility
PC, PS4
Modes
Game/Chat Mix, Mute, Surround Sound
Microphone
Detachable
Ear cups
90° rotating
Overall Grade
3.7
Design & Build Quality
With the exception of the metal strip located inside the headband that adds to its durability, the Cloud Flight S is made of plastic. Don't let this disappoint you – the headset doesn't feel cheap or plasticky.
Speaking of the headband, it contains a memory foam cushion so that your head doesn't begin to hurt after hours of gaming.
We can't talk about the build quality of this headset without taking a moment to discuss its excellent adjustment system. The headphones can be stretched to a large extent, and will comfortably fit people who have a wide head.
Also, we found them very easy to adjust. There's no irritating creaking sound when you're moving it, either. Quite neat.
The fact that the ear pads are thick means that they will sit securely on your ears, but without reaching that pressure point, after which it becomes uncomfortable.
On the inside, they are covered in a sort of leatherette, and this is one of the weakest links when it comes to materials of the headset. After a couple of months, the leatherette can show signs of tearing.
On the bright side, even after many hours of gaming, there will be no sweating, as the materials are rather light.
Sound Quality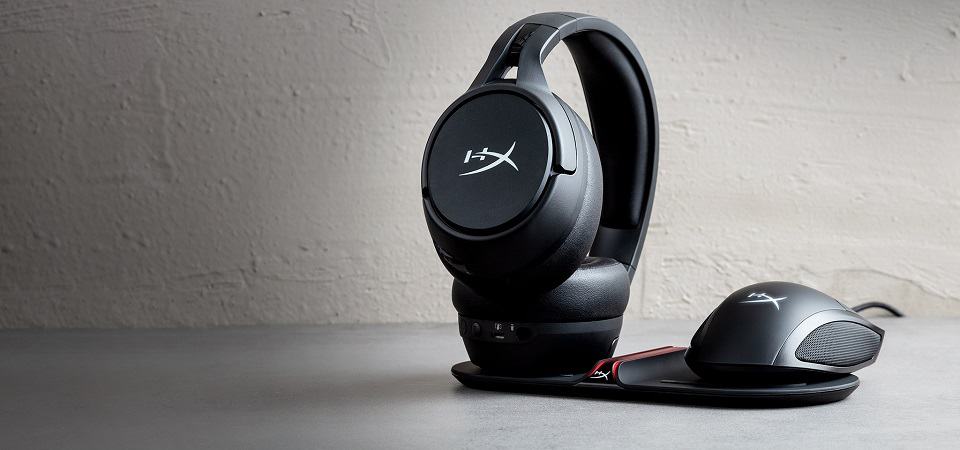 We'll be honest – for this price, we've seen headphones that sound way better than the Cloud Flight S, but overall, the sound quality is average – even more so, with the Surround Sound on.
Especially when you switch back to the Stereo mode from the Surround Sound do you realize how rich it is. In particular, it adds another dimension to firing and weather effects in games.
Once you master the chat mix controls, and with a bit of in-game voice chat adjusting, you and your team will be perfectly coordinated because the headset is very responsive to both the listener and the speaker.
The only slightly distorted, or better yet, too accentuated sound, was the bass range up to circa 200Hz – other mids and highs are decently accurate.
Hence, it might not be the best for music and bass lines in songs, but if your primary purpose is gaming, you won't detect any noticeable deficiencies regarding sound.
Another of the benefits is that the headphones are going to isolate most of the surrounding noise that could typically bother you while playing. In fact, they do it better than most other headsets!
As for the microphone, well… It could have been better.
We really wanted to see the full package – high-quality earphones AND the mic – but once again, it's not so in reality.
The first thing we do when assessing the microphone is the "F, S, and SH phoneme test," and that was okay. They came out clear.
While clarity isn't that terrible, your voice will sound too deep, and if it is naturally deeper, it will sound somewhat distorted.
Probably the only good thing about this microphone is that HyperX made it detachable.
Connectivity
The HyperX Cloud Flight S handles both the PC and PlayStation 4 under its wheels equally well. We expect it to work with the upcoming PlayStation 5, which is supposed to come out by the end of this year, too.
Even the Surround Sound, which doesn't seem to work on PlayStation 4 often with other headsets (at least not without tweaking), worked from the get-go.
At our tech lab, we are very picky and strict about the connectivity, and we wouldn't compliment it that much just for the versatility. HyperX stepped up its game when it comes to ease of use, as well. Namely, you don't need any additional software to get the headset to work on any platform.
The only thing you need to do is plug it in, and you're ready to go! The central part of the connection is the standard USB 2.4GHz RF dongle, which is much better than Bluetooth, in our opinion.
Why do we claim so? From our (considerable) experience.
Simply put, in all of our tests, this connection was much faster and more stable than Bluetooth, and it seemed to put less strain on the battery. With the same batteries, headsets with wireless GHz connection lasted much longer than those with Bluetooth.
Speaking about the battery, it is advertised as it can last up to 30 hours of playback with a single charge. What do you think, did it leave up to the numbers?
To our surprise – surpassed them, even. It ran for around 34 hours on a single charge in a few instances, and we pushed its limits with a loud output (75dB on average). These results beat that of many headsets on the market, and we can picture them as the main selling point.
There's one area where this kind of connectivity limits you, though. Yeah, you guessed it – your smartphone, as this headset doesn't come with the 3.5mm cable (technically, you could solve this out with an adapter, but the sound quality wouldn't be the same).
Extra Features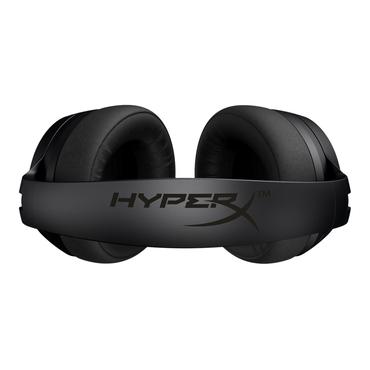 The buttons for adjusting the sound are well utilized in terms of space, and you can access many controls quickly. We are talking about the volume, Surround Sound, microphone mute, and game/chat mix buttons and dials.
However, the whole system has a learning curve as it is a bit awkwardly placed.
The volume dial is the easiest to locate, and it is intuitive, as well as the Surround Sound button, which is positioned pretty high. Unfortunately, the same cannot be told for other buttons that are located on the left ear cup.
It's not just about the positioning, but also about their style. As low profile dimpled buttons, it takes a bit of time to learn how to press them.
If these controls do not satisfy your needs, they can be reassigned in the HyperX NGenuity (or, as we like to call it, iNGenuity) software.
While the interface of the software is simple, it is still a BETA version of the app, and it has some bugs and unnecessarily complicated functions. Also, it is only available on Windows.
You probably won't even need it, except for one thing – the only way to check the exact battery percentage is through the app. That's arguably one of the most annoying things with wireless headsets, and manufacturers are yet to find a widely used way to solve it.
As it is not specific only for HyperX, we did not subtract a lot of points for this flaw.
Also, this is the first headset that the company made compatible with wireless charging. This is rare for gaming headsets, and even though the Cloud Flight S does not come with a Qi charging pad, we had to try it out, using a compatible charging base that we have.
There were no problems, except for a tiny shortcoming that bothered us – namely, when you charge it in the base, it has to be positioned so that it balances on the left ear cup. Consequently, you have to be careful not to knock it over (yeah, we learned it the hard way).
Back to our rumbling about checking the battery status – with only three indicator lights, you cannot tell the precise time remaining for a full charge, but you can expect the recharge to last for at least three hours.
In Summary
By now, you've probably got the overall impression of the HyperX Cloud Flight S headset.
Now, we'll give it some final pros and cons which may help you with the decision.
Pros:
Surround Sound works on PlayStation 4
Plug-and-play
Lag-free connection
Incredible battery life
Excellent isolation
Comfortable
Detachable mic
Compatible with wireless charging
Cons:
The mic distorted deeper tones
A bit pricey
Bad software
Final Verdict
In the end, we're going back to the question posed in the beginning: What does the "S" stand for?
-Solid, suitable for both PC and PS4, Surround Sound mode, etc.
"Superb,"?  Not really.
Its connectivity is great, and it is handy that everything is so easy to set up, even if you use it with PS4, and long battery life will surely make you happy.
Not too bad – but delving deeper into its features, you'll see that the mic is not-so-stellar and that the build quality could have been better for this price.
---
Bottom Line
The latest HyperX's gaming headset, Cloud Flight S, can thrive on a few decent features – wireless charging, ease of use, and rich tones with 7.1 Surround Sound mode.
However, the mic quality will leave you underwhelmed if you expect an accurate output for a podcast or streaming.
It's up to you to decide whether these characteristics exceed the price tag for you or not. We did our part of the job – pointed out to all, even microscopic details of this gaming headset, and elaborated on how it performs.
Design & Build Quality: 3.6
Sound Quality: 3.9
Connectivity: 4
Extra features: 3.5
Final Grade: 3.7