As the gaming industry grows day after day, there is a vast array of all hardware components, and finding a decent gaming mouse became a daunting task.
You're faced with so many options, and you don't even know where to start.
If you're interested to learn more about this solid gaming mouse, here's the HyperX Pulsefire Raid review that will elaborate on everything you need to know.
Based on a gauntlet of tests, we've dissected the HyperX Pulsefire Raid into four categories that should offer you precise insight into what to expect.
Kingston's HyperX is more popular as a headset brand, but they also have their takes in mice & keyboard assortment. Let's see how it turned out to be!
Specs & Features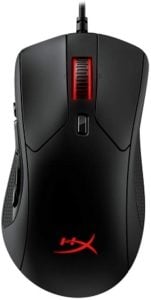 Before actually putting the HyperX Pulsefire Raid to practice, take a look at how it appears to be on paper:
HyperX Pulsefire Raid
Dimensions
5 x 2.79 x 1.60 inches
Weight
95g without the cable, 127g with the cable
Connectivity
Wired
Ambidextrous
No, right-handed
Buttons
4 side, 11 in total
Click Latency
12.9ms
CPI
800-16000
Overall Grade
 
Pretty solid, if you ask us. And now it's the time to explore how these actually look like in practice.
Design
Design-wise, the HyperX Pulsefire Raid is a mouse that doesn't stand out from the other gaming mice on the market.
If it weren't for the HyperX logo, we would have easily mistaken it for any other gaming mouse.
This is not necessarily a bad thing – it's just that the mouse doesn't look anything extraordinarily exciting (and for the price that it comes with, it could have).
It is made of plastic that is matte black for the most part, with a touch of a glossy finish and the RGB lighting on the logo and around the scroll.
Surprisingly enough, when you touch it, it doesn't feel as "plasticky" as it looks.
For the configuration of the lighting and the buttons, you can use HyperX's software NGenuity, which isn't, in all honesty, the best out there.
Although it is easy to use for the basic options, such as programming the buttons and changing the color pattern for the CPI presets, some more advanced features aren't really intuitive, and you'll have to dip further through the menus to find them.
You can create as many button profiles as you want, but – sorry to break it down to you – the mouse can hold only one profile on the on-board memory, which means that that's the only one you can use unless you enter the software and set up another.
What we also found a bit odd about the software and buttons is that three buttons aren't assigned any functions by default. Unless you use the software to change it, they will be completely useless.
The final thing that we want to mention related to (I)NGenuity software is that it isn't compatible with Mac products. Thus, you need to program it on a Windows PC, save it on board, and use it on macOS.
Construction
This mouse is a prototype of what you imagine when you think about a palm grip mouse. This style is perhaps too accentuated for our taste.
What do we mean by that?
Well, the base is wider than with most of the mice, and the curve on the left side might be too much for some.
The shape quickly grows on you, though, and you'll most likely feel very comfortable once you get used to it, as it offers a somewhat natural position of the hand.
Also, the rubber texture on the sides for your thumb and pinky prevents any slips, though it can be a bit annoying if you move your hand too often, as it creates a bit of friction.
The 11 buttons that you can customize for your favorite functions are more than enough to do whatever you want while gaming.
There are two main click buttons, the button for the CPI, three scroll-wheel buttons (click, title left, title right), and four side buttons. The side buttons are positioned a bit too far behind, so you have to put your thumb in an awkward position to reach the two that are in the back.
You can heal yourself or holster your weapons at a single click of your thumb without bothering to assign the controls to the most unreachable keyboard buttons. This is probably the strongest attribute of the Pulsefire Raid.
Being a bit lighter than your average gaming mouse, you'll have no trouble carrying it with you wherever you go.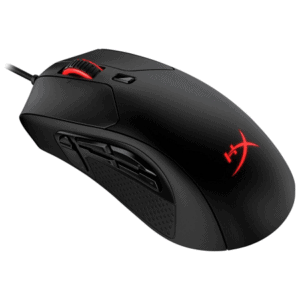 Connectivity
The HyperX Pulsefire Raid features a 6-ft (approximately 1.8 m) long cord that is braided and feels durable. It also doesn't drag much and enables flexibility while you play.
We don't have anything special to add here – you get what you can expect. We've seen some better cables in this price range, but then again, we've seen some worse.
As noted, it is compatible with Windows and Mac devices (though the software is compatible only with the former) as long as they have the USB port, and you can also connect it to your PS4.
Performance
If you weren't impressed by what the HyperX Pulsefire Raid offers so far, it's okay – we weren't, too.
However, its time to shine has come. Considering that we were not altogether very satisfied with the construction and the design and our expectations went a little lower, this mouse has managed to exceed them when it comes to performance.
The PixArt 3389 sensor is the main factor that deserves the credit for a high-quality performance. But really, this sensor is 10/10.
With no bugs and low latency at up to 16000 CPI and 450 inches per second, you won't experience any delay during the gameplay. The polling rates of 125-1000 Hz are also satisfactory.
There's a lot of space to experiment with the settings (which will probably vary with the game that you play), so we were pleased with that.
There was the moment when we tested it out in League of Legends and figured that some buttons are redundant, and you don't need them for such games, but then again, you cannot blame it for having too many buttons.
To Sum It Up…
Pros:
As many as 11 programmable buttons
Lightweight
High-quality sensor
Durable braided USB cable
Silent click
No jitter
2-year warranty
Cons:
Mediocre software
No wiggle room for your palm
A bit wide
Unfortunate positioning of some of the side buttons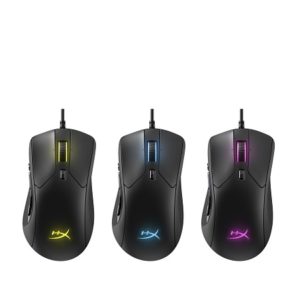 The Final Verdict
When all is said and done, we are left with the impression that the HyperX Pulsefire Raid has a lot of potential for an excellent gaming mouse, but does not fulfill it.
If you're ready to accept some compromises in terms of design, this can be a good choice.
For instance, the button layout is terrific until you get to use your thumb. And it's not the cheapest out there, either.
On the other hand, our benchmark testing (which was mostly comprised of hours and hours of gameplay) showed that it performs well in-game.
---
Bottom Line
Functionality with a few issues – that's how we would describe the HyperX Pulsefire Raid.
If you're ready to forgive a couple of design and construction calamities, the great optical sensor and precise movement without delay will make it up to you.
We have, by now, seen far better-looking gaming mice that cost roughly the same, which was one of the paramount factors that kept it from receiving a higher grade.
Design: 3.7
Construction: 3.3
Connectivity: 4.
Performance: 4.5
Final Score: 3.8