If there are two essential things that a gamer needs, they would be a PC (yeah, captain obvious here), and a gaming chair. Without it, gaming for a few hours would be an unpleasant experience, but also bad for one's health.
Today we're dissecting a popular gaming chair coming by OFM.
This company is not just your regular gaming products manufacturer. It is, above all, a furniture manufacturer.
That's why gaming chairs by OFM were made with a lot of thought put into it, and they are a piece of furniture, first, and gaming equipment later. This basically means that they are as comfortable as a gaming chair can get. But does it come at the expense of other characteristics?
Read our OFM Essentials Gaming Chair review to find out.
OFM Essentials Gaming Chair at a Glance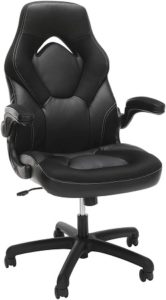 This is the manufacturer's official breakdown that describes the properties of this gaming chair:
OFM Essentials Gaming Chair
Back dimensions
19.75'' (W) x 29.50'' (H)
Armrest dimensions
26-29.75'' (H)
Seat dimensions
17-20.75'' (H), x 20'' (W) x 19'' (D)
Weight capacity
275 lbs
Material
Leather, colored mesh
Ergonomic features
Height adjustment, center-tilt control, flip-up arms, 360-degree swivel
Warranty
Lifetime warranty
Overall grade
4.4
All these features aside, what was the OFM Essentials Gaming Chair really like? How does it feel sitting in it?
To see whether it delivers on its promise, read our comprehensive view.
Design
Although the OFM Essentials gaming chair is advertised as a "racing-style" chair, it doesn't aspire too high to reach the usual aesthetics of it. Apart from the contoured padding, we didn't recognize many characteristics of the typical gaming-chair design.
And yet, there are a lot of positive things to be found in this simplicity. It doesn't limit you, in a sense that you can also use it as an office chair, and it will blend into any interior (especially the all-black version).
On that note, there are as many as ten different color variants of the chair, including some exciting ones, like Arctic and Forest Camo, which look a bit more like a gaming chair than the monochrome option.
It won't make your room look like you own modern gaming setup, but as far as the aesthetics go, it's pleasant on the eye.
Material
When we assess the design, we also take into account the materials that were used in the construction of a chair.
With this one, it is a combination of soft-thread leather and some kind of mesh-type material that enhances the breathability of the chair. The leather looks natural, and mesh highlights are really practical. No matter what you spill on the chair, it'll be easy to clean it up.
The only downside we noticed is that the leather looked a bit stiff when the chair arrived, but after a couple of days of sitting in it, the feeling disappeared.
You have to appreciate how the manufacturers may have toned down the design a bit to make this chair an affordable pick, but not at the expense of materials.
The materials felt just as good as with some picks that cost two, even three, times as much.
We also impact-tested the frame and the casters of the chair, and they showed to be durable and stable.
No wonder the manufacturers are confident enough to offer a lifetime warranty – this construction and materials seem to be able to endure it.
Comfort
As noted, OFM produces furniture, which means that they got a great deal of comfort out of this chair.
The core of the ergonomic support here is the segmented padding, employed in the seat, in the back, and the arms. It manages to strike the right balance between being soft, but not too much so that you don't lose the right posture of your body.
The padded headrest and the lumbar cushion support built in the chair feel really comfy, but we still wish that at least an extra pillow was included for those who might want it. That's what subtracted a few points for the comfort grade of this chair.
The new and improved flip-up arms can be lifted when you want to use the chair without them, and the height of the chair along with the recline angle is fully adjustable, as well.
Of course, the comfort cannot be compared with some of the professional office chairs, but it stays firmly above the average for gaming chairs, and it can save your back from the pain.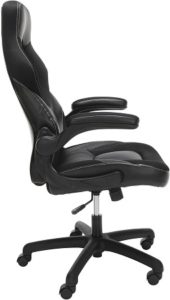 Installation
The OFM Essentials Gaming Chair was easy to assemble, and it won't take you longer than 20 minutes. The only thing that you need is an Allen wrench (supplied in the package, which is a plus), and then there's mostly just setting up and tightening the screws.
While the supplied instruction sheet is a bit obscure, it still contains all the vital info you need to install the chair.
To Sum It Up…
Pros:
High-quality materials
Comfy
Easy to assemble
Excellent value for the price
Durable casters
Cons:
You don't get a lumbar or pillows with the purchase
Simple design
The Final Verdict
At the end of the OFM Essentials Gaming Chair review, we owe you some final words.
Solid build quality, great comfort, and a good price are all building blocks of an excellent gaming chair – and this one checks all those boxes.
It might have got its looks and design cues from some pieces of furniture that aren't a gaming chair, but it fulfills most of the standards design-wise.
Even with the few trade-offs in mind, it's still miles ahead of some chairs that are in the same price range.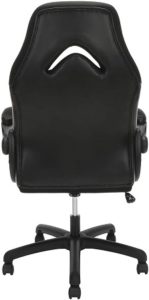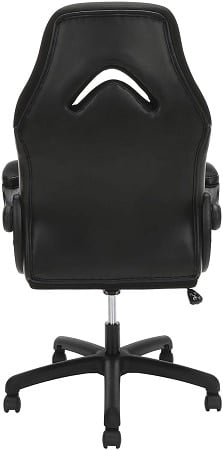 ---
Bottom Line
The design of the chair may be a bit too "simple" when put near a racing gaming chair, but it's actually pretty fine when you think about it.
It all depends on your perspective – you can complain that design-wise, this chair is stripped of bells, or you can be satisfied that it looks elegant and can also be used as your office chair.
When you look at the things from another perspective – that the core specs and features are truly game-changing – it shouldn't be hard to forget that it doesn't look as attractive as some other gaming chairs.
Throw into the equation the comfort that you get at a budget-friendly price, and it deserves a good overall grade.
Design: 4.0
Comfort: 4.6
Material: 4.4
Ease of Installation: 4.6
Final Grade: 4.4