The epoch of gaming is popular now more than ever. Accordingly, people crave to get the best PC setup and external hardware possible – and gaming mouse is one of the paramount parts of it.
The manufacturers have, of course, put competitive offers on the market, and there are a plethora of options out there.
Therefore, the search for your perfect gaming mouse can be very tiring.
We are sort of a private eye for you, seeking for the most popular gaming mace and reviewing them for you.
There is an army of fans that are vouching for Razor mice – but are they objective?
We will answer this to you with ourRazer Viper Mini review today.
Specs & Features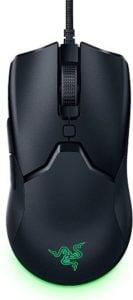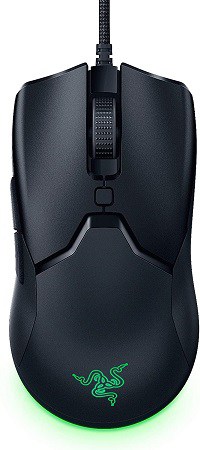 If you want to quickly scan the overall grade and aspects of this gaming mouse, here they are:
Razer Viper Mini
Dimensions
4.7 x 2.4 x 1.5 inches
Weight
87 g with wire, 61 g on its own
Connectivity
Wired, USB port
Ambidextrous
Yes
Buttons
6 (2 on the side)
Click Latency
6 ms
CPI
200-8500
Overall Grade
4.3
In order to justify this grade and elaborate on whether this mouse is a valuable purchase, let's proceed to the complete review, followed by detailed analyses of its features.
Design
The aesthetical side of a gaming mouse cannot be neglected, because nowadays they look so modern and powerful.
The RGB lights are involved in 99% of them, and the same goes for the Razer Viper Mini.
Starting off with this fantastic lighting system, Razer Chroma RGB, it is around the mouse, as sort of an under glow. The company's logo on the front is illuminated, too. It really looks great and adds to the overall smooth looks.
One thing we wanted to mention is that there are additional ways to explore the lightning capabilities of the Razer mice, which is a huge plus.
Namely, if you install the Razer Synapse software, you are able to choose any color and effect that you want besides the five pre-programmed color profiles. It is synchronized with your gameplay, which means that it will blink in the rhythm as you play the game.
We tried it out, set up a green mint preset, and enjoyed it.
Mac users will probably be disappointed to learn that the software is not compatible with macOS. However, the mouse comes with on-board memory, so that you can set up the buttons on Windows, and then still use them on your Mac.
You can also adjust the lift sensitivity from the software.
Apart from the RGB lighting, the mouse is all-black and stylish.
Overall, when the design is concerned, the Razer Viper mini is a sleek mouse that completes your high-end hardware collection nicely.
Construction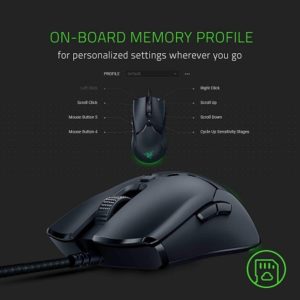 We also assess the shape and construction of the mouse, which mostly accounts for whether a mouse is ergonomic or not.
Considering that this is the smaller sibling of the older Razer Viper, and one of the lightest mice we've had in our lab, we knew there would be a lot of work in determining whether this mini version lives up to the expectations.
While its shape is a bit different than most of the mice from this series, we have to admit that we liked it.
It is a model that has a nice, comfortable grip precisely because it is smaller than the usual. It enables a good position of your fingers, especially at your fingertips.
However, there are some negative sides to its minuscule size. First one, and the obvious – it won't fit you well if you have large hands. It is simply too small, and you'd have to keep your hand in an uncomfortable position with the palm grip.
Also, compared to some other Viper models, it has fewer side buttons (only two), plus the scroll button, two main buttons, and the CPI button. On a positive note – they can be reprogrammed if you use the software that we mentioned.
A pro tip: You can program one of the buttons to switch your button profiles so that you get more than two additional buttons at the end when you think of it.
However, the lack of additional side buttons may annoy you, especially if you're a frequent FPS game player – we know the time that you use to heal yourself can cost you a game!
On the bright side, it is ambidextrous, meaning that you can use it no matter whether you are left or right-handed. Are there any cons to it? Unfortunately, yes, again. The symmetrical shape of the mouse might not be for everyone.
As it is ambidextrous, this means that there are no dentures for a better grip of the thumb on the sides, so it may slide a bit. This is, again, mostly a problem if you play FPS games often.
If you don't, and if your hands are not large, we believe that it will fit you well, especially with the fingertip grip.
After left idle for around 10 minutes, the mouse goes to sleep, and you can "wake it" at the press of a button. You can also change the timeframe in the software.
As far as other characteristics of construction are concerned, we were satisfied.
At 61g, it is extremely lightweight, and, thus, very compact. The build quality felt very solid and secure, just like the bigger version of the mouse. And it is built to last!
With regard to that, you are covered with a 2-year warranty (but this one will probably last longer).
The scroll is coated with rubber that has bumps on the surface so that your finger doesn't slide off. This is a nice touch.
Connectivity
With the demand for wireless technologies high up, some may advise you to go for a wireless gaming mouse.
However, based on our experience, we noticed that we get better performance out of the wired mice. This type of connection simply reigns superb when it comes to gaming mice; there's no doubt.
The Razer Viper Mini comes with the patented Razer Speedflex Cable, which is terrific. It doesn't produce the drag on your desk, and it feels sturdy, but flexible at the same time.
We even concluded that the cable here felt better than with the regular Razer Viper, and it's the same one that has been used with the Razer Viper Ultimate.
The port type is the standard USB, and the length of the cable is 6.1 ft (1.9), which is just appropriate for any purpose.
Are you hungry for more information?
Let's move on to its performative features.
Performance
The click latency was measured at 6 ms. For FPS and MMO gamers, there shouldn't be any significant delays or lags.
As for the optical LED sensor, well… We've seen better, and we've seen worse.
We noticed that the performance of the sensor varies when we experiment a bit with movement.
So, at slower use, we detected a higher CPI discrepancy and errors than with quick movement.
The maximum CPI of 8500 should satisfy most of the gamers, though some other picks from the series offer even more.
Additionally, it is not as adjustable – you can set it in 100 value increments – instead of the regular 50, so we had to lower its grade a little bit.
To Sum It Up…
Pros:
Low click latency
A durable cable with minimal lag
One of the most lightweight mice
Sleek design
Excellent value for the price
Quiet mouse wheel
The Razer software is intuitive and fun
No jitter
Precise
Cons:
Isn't compatible with macOS
Fewer additional buttons than most of the gaming mice
The design will be uncomfortable for larger hands
The Final Verdict
After going over this exciting and promising mini model by Razer, it's time to answer the question of whether this gaming mouse performs as good as it looks.
For most of the part, yes.
However, it won't feel really comfortable to you if you have larger hands, especially if you use it with the palm grip.
If your hands are smaller or mid-size, and you enjoy the design of ambidextrous models, the Razer Viper Mini will be a nice addition to your gaming setup.
---
Bottom Line
The smallest in the Razer Viper line, the Razer Viper Mini, was dissected entirely for your convenience.
This ultra-light mouse will serve you great in your FPS and MMO endeavors if you agree to make a few compromises in terms of comfort – especially if you have larger hands.
On the other hand, you'll undoubtedly get excellent performance out of its sensor and fast cable.
All things considered, it offers most of the things that you want of a good gaming mouse. The decision is yours.
Design: 4.6
Construction: 3.9
Connectivity: 4.4
Performance: 4.4
Final Score: 4.3