After countless hours spent in a gaming chair, you can feel sore, and your back, neck, and legs can be in pain, or you can
feel perfectly fine if you own an ergonomically built chair.
In this Vitesse Gaming Chair review, you'll learn anything needed to decide whether it fits your budget and needs.
By the way, did you know that "Vitesse" means "speed" in French? We don't know whether it's wordplay, but it takes no more than a passing look at this gaming chair to see that it indeed resembles all of the racing-style chairs out there.
For the sake of objectivity, it's always better to dig deeper, find some flaws, and use them to counterweight the pros. Only then will you know whether this gaming chair is the right for you!
Without further ado, we can proceed to the complete analyses of it.
Check Price
Vitesse Gaming Chair at a Glance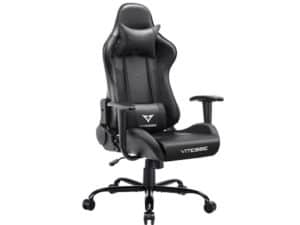 There's no doubt that the Vitesse Gaming Chair promises a lot. See for yourself:
Vitesse Gaming Chair
Backrest dimensions
22.2'' (W) x 30.7'' (L)
Seating area dimensions
20.4'' (W) x 14.9'' (D)
Seat height
15.3-18.8''
Weight capacity
300 lbs
Material
PU leather
Ergonomic features
Tilt control, adjustable height, 360-degree swivel, head & lumbar support
Warranty
Three months
Overall grade
3.9
All these specs are something that we've seen a hundred times by now, only in different combinations. Let's see how they actually showed when submitted to our tests!
Design
The first impression is that this chair looks much more expensive than it really is, and that's a plus. The elegant design of the chair, especially with the all-black version, will make any interior exquisite. Also, you can opt for a bi-colored variant (with red, blue, or white highlights).
However, considering that there is a discrepancy between the price of the chair and its appearance, you probably assume that there are some hidden shortcomings ahead. And you're right. But we'll get to that in a second.
When we focus on the design solely, the drawbacks are absent. It's in line with all exclusive racing chairs, and you can't go wrong with it if you like a modern yet elegant approach to your furniture.
Comfort
What we learned about the Vitesse gaming chair is that it isn't very spacious. It feels a bit narrow. The problem isn't so pronounced, but if you happen to be of a larger stature, you will probably have some difficulty in finding a comfortable position.
Then again, the supported weight is in line, if not above, with the rest of the gaming chairs on the market (300 pounds).
That doesn't change the fact that we hope to see the proportions of the chair improved in some of their future takes. Currently, there will be no sitting criss-cross while you're watching a long Assassin's Creed cutscene or waiting for your Apex Legends match to load.
Its coziness can be attributed mainly to the lumbar cushion and headrest pillow. They are attached to the chair with a couple of Velcro strips, so you can easily dismantle them. Also, there is the padding that stretches from the top of the backrest all the way to the bottom of the seat.
The reclining mechanism is neat, and the chair won't feel wobbly, even if you switch positions often.
Material
Another thing we would like to praise is the choice of materials. The main part of the chair consists of high-quality PU leather that feels real and does an excellent job managing the body temperature.
PU-leather, in general, is the material that is very durable and easy to maintain. It does the job as expected, and it isn't hard to see why the manufacturers chose it.
The whole structure is mounted on a sturdy metal frame, and we have no objections there.
Installation
Putting the chair together isn't a real chore compared to some other options, but be aware that this is not amongst the lightest chairs on the market. You'll probably be better off with someone to help you, though it takes just a couple of glances at manual to get the hang of it.
Velcro strips take a bit of adjusting until you manage to position them to keep the cushions in place.
To Sum It Up…
Pros:
The material is durable and easy to clean
Breathtaking design
Adjustable seat height
Comes with headrest pillow & lumbar cushion
Budget-friendly price
Cons:
Armrests aren't adjustable
The chair might be too narrow for some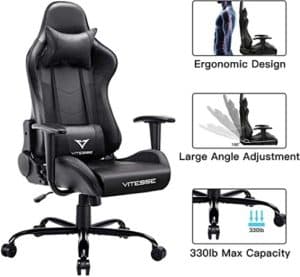 The Final Verdict
Some gaming chairs manage to marry comfort with excellent design, but this is not one of them. Don't get us wrong – it's not a polar opposite, either, and it's cozy due to the padding and lumbar and head support that you get.
But still, it's hard to escape the feeling that the ergonomic features suffered because of the ambitious style.
Also, it's worth mentioning that the material of this chair has been known for high endurance, and the reclining mechanism works spot on.
There are some more comfortable chairs, but a higher price tag usually accompanies them.
We did our part – dissected every aspect of the chair – and it's up to you to make the decision.
The Vitesse Gaming Chair emits a powerful "racing-style" vibe, and everyone will fall in love with its design.
But, take a more in-depth look at its ergonomic features, and you'll notice that there is more (or better yet, less) than meets the eye. However, is it enough for you to turn a blind eye to some flaws?
Be that as it may – if you need a piece of exclusive gaming furniture at an affordable price, the Vitesse Gaming Chair is worth a shot. Read everything we learned about it, and then make up your mind!
Bottom Line
Design: 4.6
Comfort: 3.2
Material: 4
Ease of Installation: 3.9
Final Grade: 3.9